Application:
1. what's your name? Lily
2. How old are you? 16
3. How many scars do you have? about 200
4. What are these scars from? razors, switchblades, scissors, fingernails
5. Are you depressed? yes
6. Are you bipolar? nah
7. Are your parents divorced? no
8. Are the scars self-inflicted? yes
9. Did you ask a friend to make the scars for you? no
10. Why did you "scar" yourself? i like the feeling of the pain
11. What are your 5 favorite bands? Switchblade Sympony , Type O Negative , Pretty Girls Make Graves , Dead can Dance , Le Tigre
12. Are you a vampyre? nah
13. Are you core? If so what type of core? hXc
14. Who hurt you the most? How? myself... having feelings
15. Do you like muffins? If so, what's your favorite kind? nope... i'm not a muffin person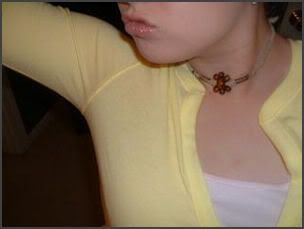 Sorry, no pictures of my scars....